MEET DR. RAUK
Daniel Rauk, DDS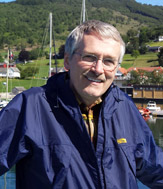 A native of St. Paul, Minnesota, Dr. Rauk graduated from Augsburg College in Minneapolis, Minnesota with a degree focusing on music, psychology and pre-dental studies. He graduated with Honors with a Doctor of Dental Surgery degree from the University of Minnesota School of Dentistry in 1981. From 1981 through 1989 he was fortunate enough to work in a group practice of several excellent and gifted dentists in Maplewood, Minnesota. Dr. Rauk considers his time working with these skilled dental practitioners to be on par with an invaluable eight year internship.
The doctor and his wife had always loved Colorado and wanted their daughters Siri and Leah to grow up in its wonderful setting. So in 1989,Dr. Rauk moved the family here and founded his Estes Park practice. After opening the new office, Dr. Rauk soon learned that the expanded dental skills he refined while practicing in Minnesota for eight years were welcomed. Patients preferred to have comprehensive dental care performed at one office, rather than being referred to other dentists for treatments such as root canal therapy, oral surgery, and cosmetic dentistry.
Stephanie, Dr. Rauk's wife of over 30 years, has worked as a registered nurse, primarily in pediatrics, geriatrics, and hospice. Together, she and Dr. Rauk have been able to help provide better access to dental care for people who may not otherwise be able to receive it. Their dental mission trips have included Mexico, the Philippines, and India.
The couple's grown daughters carry on the family's tradition of health service in medical social work and geriatric care. In addition to providing superior dental care to his community and beyond, Dr. Rauk's interests have focused on music and a love of God's natural creation. An avid outdoorsman, he enjoys hiking, camping, cross country skiing, as well as snow and water skiing with the family. He also plays the piano, trombone, and has served as a church organist for many years.
Dr. Rauk has shared his dental expertise across the globe. Realizing the need to give back to those less fortunate, he participates in mission trips and has treated patients in Mexico, the Philippines, and India.
Located in the Aspenwood Professional Building at 600 S. St. Vrain in Estes Park, Dr. Rauk's dental office serves patients from surrounding areas, including Pinewood, Glen Haven, and Allenspark. Give us a call today to schedule your initial visit.